A night out in Beverly Hills can offer a dining experience that's beyond compare. From fantastic gourmet eateries to trendy international restaurants, you're sure to enjoy a delicious meal in this high-end, luxurious neighborhood. Many of these establishments feature some of Los Angeles's finest wine lists; read on to learn more about the best places in Beverly Hills to try a glass of wine!


1. Spago Beverly Hills
Located at 176 North Canon Drive right in the heart of Beverly Hills, Wolfgang Puck's flagship restaurant is renowned for its stellar cuisine and top-notch wines. The restaurant was fully renovated in 2012 by Waldo's Designs, creating an elegant and sleek design that's perfectly in keeping with this decadent dining experience. Diners can stop by each day to enjoy lunch or dinner, and even choose to use the restaurant's facilities for private dining; throughout the year, 

Spago Beverly Hills plays host to Emmy parties, presidential dinners, and celebrity gatherings. Each year since 2010, Spago Beverly Hills has been lauded with Wine Spectator's most prestigious Grand Award -- given to only one hundred restaurants in the world each year -- so you know you're in for an incredible wine tasting experience. Walking into Spago, you will be greeted with the 15,200 bottle wine cellar that serves as the backdrop for the elegant dining room; the restaurant employs a wine director, Phillip Dunn, who carefully cultivates the 2,800-selection list. 

Among the options? Wines from California, Italy, France, and Germany that pair seamlessly with head chef Ari Rosenson's regional American dishes. The list is so extensive that it might be overwhelming to peruse, but keep in mind that Wine Spectator recommends Spago's selection of Rieslings. You can also look through the list of Featured Wines for some top choices, including a Laurent Perrier brut champagne, a Villa Russiz pinot grigio, and a Pyramid Valley chardonnay.
A true gem of a Los Angeles restaurant, high-end New American restaurant Maude can be found at 212 South Beverly Drive. Stop by for dinner between Tuesday and Saturday for some delicious dishes; this is renowned chef Curtis Stone's flagship restaurant, known for its menu which rotates seasonally, always inspired by a different wine region. The elegant dining room offers a view into the restaurant's open kitchen. While the menu changes up every three months, memorable past dishes have included a decadent potato Ravioli Mugellani and a Fish Stew that included tender squid and prawn.

Wine truly takes center stage at Maude. The restaurant has won Wine Spectator's Best of Award of Excellence for its emphasis on viticulture, pairing spectacular wines with various items on their European Contemporary tasting menu. Wine director Andrey Tolmachyov oversees Maude's incredible list of 700 wines.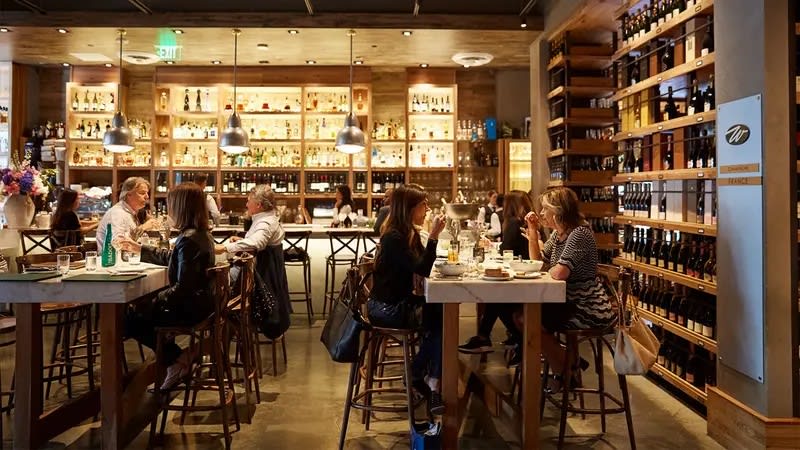 Credit: Andrea D'Agosta, Wally's Beverly Hills
This Grand Award-lauded combination gourmet retailer and restaurant is known for its breathtaking array of 3,500 wines. Located on 447 Canon Drive and open each day for both lunch and dinner, Wally's is a must-see for any wine connoisseur. Self-described as a "one-stop-shop for everything delicious," the shop at Wally's features fine cheeses, specialty meats, artisanal chocolates, gourmet treats like caviar, interesting spirits, and of course, wines. All of this is located within an upscale restaurant setting adorned with bottles along the walls.

The food at Wally's Beverly Hills is inspired by the Provence region of Southern France, with executive chef Ryan Kluver creating a menu that incorporates dishes like steak tartare, rack of lamb, and truffle bolognese. Delicious pizzas served at Wally's include the Truffle Pizzetta featuring porcini truffle puree, truffle oil, buffalo mozzarella, and arugula; there's also the decadent Lobster Pizzetta, which incorporates spice-rubbed Maine lobster, squash blossoms, fontina, and fennel ricotta, topped with a lobster marinara sauce. You also won't want to miss Wally's Classics like the Wagyu tomahawk steak, the French sea bass, and the Wally Burger, a tasty delight made with American Wagyu beef, Old Amsterdam gouda cheese, heirloom tomato, and caramelized onions, topped off with the iconic Wally's sauce and served on a housemade brioche bun, pommes frites on the side.

When it comes time to choose a wine to pair with your meal, you're in luck: Wally's entire retail selection of wines is available to order at the table. The wine list is so extensive that it features a table of contents spanning everything from sauvignon blancs to pinot noirs, sourcing white wines from unique locales like Portugal, Greece, Spain, and France's Loire Valley. If you're in the mood for something exotic, the wine list also features selections from Germany, Austria, Slovenia, Armenia, New Zealand, and many more. Wine director Matthew Turner is in charge of Wally's fantastic 45,000 bottle inventory, which is particularly known for its selection of California and French wines from the Bordeaux and Burgundy regions.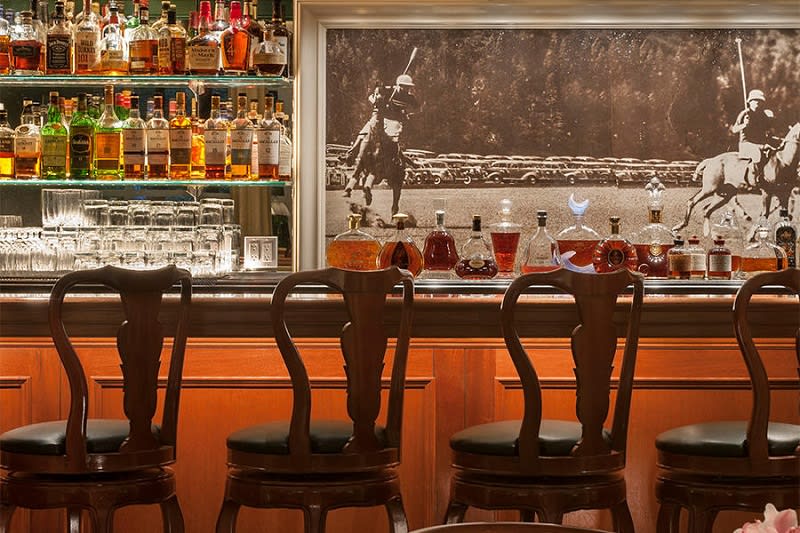 Credit: The Polo Lounge
Located at the iconic Beverly Hills Hotel along famed Sunset Boulevard, this elegantly historic eatery is known for its California cuisine and extensive wine offerings. A celebrity favorite since the glamorous old Hollywood days, the Polo Lounge has been entertaining diners like Elizabeth Taylor and Charlie Chaplin since 1941. The dining room and beautiful outdoor patio are the perfect places to see and be seen, popular for everything from industry dealmaking dinners to celebrations with family and friends.

Meals at the Polo Lounge are considered American cuisine with a flavor of Italian sprinkled in, serving daily breakfast, lunch, and dinner and a Sunday brunch from 11 AM to 3 PM. Start your delicious dinner with a treat like the half dozen oysters, the Polo crab cake, or an ounce of Russian Osetra caviar topped with egg, red onion, chives, lemon, and creme fraiche. Fabulous main courses prepared by executive chef Michael Santoro include crispy skin sea bass, bluefin tuna nicoise, and a dry-aged tomahawk steak available to share. 

The Polo Lounge's wine list is a delight, carefully curated to include over 1,200 wines from the finest regions as well as up-and-coming locales. Over 250 different kinds of wine are offered here at the Polo Lounge, including various champagnes by the glass like a 2009 Dom Perignon and a Moet & Chandon Imperial Brut. The white wine selection includes notable sauvignon blanc choices from locations like Sancerre, France and Marlborough, New Zealand; you can also choose a Tuscan blend Montepeloso red wine or a cabernet sauvignon from Napa County and Sonoma County.
With a fabulous, desirable location inside the iconic Waldorf Astoria Beverly Hills, this stellar restaurant is renowned French chef Jean-Georges Vongerichten's Beverly Hills outpost. The gorgeous sunlit dining room is perfect for relaxing over a delicious meal with family and friends, who are bound to love the exquisite seasonal menu.

Your gourmet dining options are varied; choose from a six or eight-course seasonal tasting menu, both available with completely vegetarian options. A potential eight-course meal might include an amuse-bouche, sea urchin and caviar, raw scallop in the shell, a decadent almond risotto featuring Australian black truffle, the roasted Atlantic cod, roasted beef tenderloin served with parmesan cheese and buttery habanero hot sauce, a sweet dessert like the cherry cheesecake sundae, and the chef's selection of mignardise, or bite-sized desserts. Each course is thoughtfully paired with a fine wine from regions of France, California, Spain, Italy, and more.
6. The Terrace at Montage Beverly Hills
Located at 225 North Canon Drive, this sun-drenched and quintessentially Californian restaurant features delicious gourmet meals paired with a carefully curated wine list that is sure to delight diners. Executive chef Kaleo Adams has cultivated a menu that showcases Californian cuisine made with locally sourced ingredients while simultaneously incorporating influences from his decades of travel worldwide.

Delicious gourmet entrees at the Terrace include pan-seared red snapper with artichoke en papillote, single-cut Berkshire pork loin with caramelized pineapple, or the dry-aged 10z Flannery beef with morel mushrooms. The restaurant has long employed a full-time sommelier and Wine Director to ensure that their wine program is run smoothly, with each bottle hand-selected after careful consideration. 

The Montage Beverly Hills hotel features a temperature-controlled, limited access underground wine cellar, which houses approximately 15,00 bottles. From a Chateau la Coste rose wine from France's Provence region to a Far Niente Chardonnay from California's famed Napa Valley, there are plenty of fantastic wine options available to pair with your gourmet meal.
(Image Credit: Montage Beverly Hills)

If you're browsing Beverly Hills luxury real estate listings in search of your perfect home, contact experienced and knowledgeable LA real estate agent Rochelle Maize today. She will be happy to help you find the ideal home in Beverly Hills to meet your needs.

(Header Image: Spago Beverly Hills)